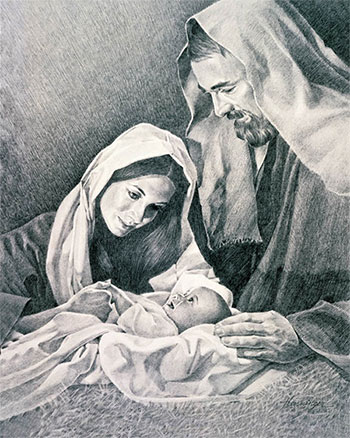 O God,
whose mighty Son was born in Bethlehem
those days long ago,
lead us to that same poor place,
where Mary laid her tiny Child.
And as we look on in wonder and praise,
make us welcome him in all new life,
see him in the poor,
and care for his handiwork, the earth, the sky and the sea.
O God, bless us again in your great love.
We pray for this through Christ our Lord.
Amen.
Christmas Schedule 2015
INDIVIDUAL ADVENT CONFESSIONS
Saturday, December 19th:10:30 AM to 12:00 Noon
2:30 PM to 4:00 PM
7:30 PM to 9:00 PM
MASSES
CHRISTMAS EVE – Thursday, December 24th
No 9:00 AM Mass
7:00 PM Family Mass – Carol Singing
9:00 PM Adult Choir – Carol Singing
12:00 AM Midnight Mass – Contemporary Group
Office Open 1:00 PM to 4:00 PM only
CHRISTMAS DAY – Friday, December 25th
10:30 AM
12:30 PM
Office Open 9:00 AM to 1:30 PM
BOXING DAY – Saturday, December 26th Mass 4:30 PM
Office Open 1:00 PM to 6:00 PM
MONDAY, DECEMBER 28th
Office Closed
No 9:00 AM Mass
NEW YEAR'S EVE – Thursday, December 31st
No 9:00 AM Mass
Mass at 4:30 PM for the Feast of Mary the Mother of God
Office Open 1:00 PM to 6:00 PM only
NEW YEAR'S DAY – Friday, January 1st
FEAST OF MARY THE MOTHER OF GOD
10:30 AM
12:30 PM
Office Closed
Parking
While parking at ground level is limited to 51 spaces, there is plenty of space in the underground parking lot. Please follow the instructions of the attendants. Do not park in front of the Church since this is a fire route and must be kept clear.
Additional parking is available on the east side of Elkhorn Public School and in the bus loop. Again, please follow the instructions of the attendant. The school requests that we do not park on the grass. Many thanks to Holly Richards, the Principal of Elkhorn Public School, for allowing us the use of the school property.
ANNOUNCED MASSES
December 21st to December 26th, 2015
MONDAY – CATHERINE LEONOR REMEDIOS – Requested by Aliana Chan
TUESDAY – REV FR. RAPHAEL GLOFCHESKI – Requested by Effie Cassling
WEDNESDAY – DAVID SHELDRICK – Requested by Teresa Sheldrick
No Announced Masses on CHRISTMAS EVE, CHRISTMAS DAY and BOXING DAY
CHILDREN'S CHOIR FAMILY MASS – CHRISTMAS EVE AT 7:00 PM
Rehearsal: Sunday, December 20th from 2:00 to 4:00 PM
Each year, young people, Grade 3 and up, form a special choir for the Family Mass on Christmas Eve. Children must be at the Church by 6:00 PM. One rehearsal, which is mandatory, will be held this Sunday, December 20th from 2:00 PM to 4:00 PM.
Please call Marilyn Calderone at 416-618-2041 for more information.
CHRISTMAS PAGEANT DRESS REHEARSAL
Sunday, December 20th from 2:00 to 4:00 PM
S.K. to Grade 5 children are invited to participate in the pageant. The rehearsal will be held this Sunday, December 20th from 2:00 PM to 4:00 PM in the Church.
ADVENT-SOLSTICE REFLECTION
"Shifting from Darkness to Light: Through Creative Action and Dialogue."
Tuesday, December 22nd from 7:30 to 9:30 PM in the Gabriel Room
The hopeful expectation of the Advent season requires our active participation to effect change. Pope Francis' encyclical, Laudato Si`, and the recent climate change meetings in Paris have initiated creative action and dialogue. Reflecting on these events, we will seek signs of active hope and reflect on the Church's calls for ecological justice.
Please contact Elliott Allen Institute for Theology & Ecology at eaite.contact@utoronto.ca or Dennis O'Hara at dennis.ohara@utoronto.ca or call 416-926-1300, ext. 3408
to register or for more information.
FEED THE HUNGRY
FOOD FOR ROSALIE HALL & GOOD SHEPHERD CENTRE
There but for the Grace of God…..
Please help feed the hungry and homeless this Christmas by participating in the St. Gabriel's annual Christmas Food Drive. Please check the expiry dates before donating since we cannot pass on food that has expired.
Food collected will be sent to the Good Shepherd Centre and Rosalie Hall. Thank you for your generous support.
BLOOD DONOR CLINIC
Blessed Trinity Church, 3220 Bayview Ave.
Saturday, December 26th from 11:00 AM to 3:00 PM
Wrap it in Red this holiday season by Giving Life. Book your appointment at www.blood.ca. Download the GIVEBLOOD App or call 1-888-2-DONATE.
FINANCE CORNER
The Parish's 2015 budgeted operating expenses average $14,550 per week.
Offertory Collection for last weekend:
Envelopes 422 $ 10,205
Loose Change 1,014
Weekly Portion of Pre-Authorized Giving 165 3,145
Total 587 $ 14,364
Refugee Sponsorship $ 62,415
OFFERTORY ENVELOPES FOR 2016
The 2016 Offertory Boxed Envelopes are now in the Gathering Space. Please pick yours up as soon as possible.
If you are contributing cash to the Offertory Collection without any identification, you will not receive credit for your contribution. You must provide your full name and address.
Please note: All donations for 2015 must be received in the Parish Office by Wednesday, December 30th 2015 to be included in your 2015 Tax Receipt.